Pelagius Brackwater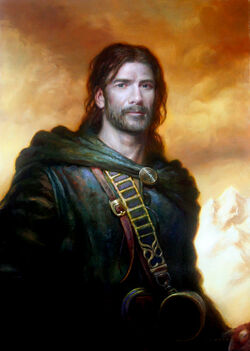 Titles
Prince of the Wetlands
Age
Died February 12th, 350 AC (aged 31)
Date of birth
July 28th, 318 AC
Pelagius Brackwater
was a member of the
Brackwater family
, and the youngest brother of
Rolland
and
Haythem Brackwater
. His oldest brother, Rolland, is the Lord Paramount of
The Wetlands
, and Haythem is the Lord of
Garanide
. In life, Pelagius never held any official landed titles, which makes it all the more puzzling why an assassin would target him. In 350 AC, he died due to suspicious circumstances; his brother Haythem has been accused of his murder, although he fully denies it.
Pelagius was a hunter and courtier, and had three children with a commoner wife. He fought for the Kingdom of Andoras in the Civil War, as an archer in the Wetlander Army. As a result of being last in line to the throne, Pelagius was never seriously treated as a noble. He reportedly was content with this, however, and was in no threat to either Rolland or Haythem when he died.
Community content is available under
CC-BY-SA
unless otherwise noted.