Morsen Holdfast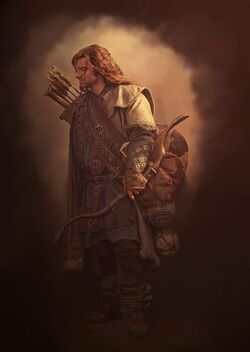 Also known as

The Drunken Seer

Date of birth

January 2nd, 316 AC

Allegiance

Varies
Himself

Morsen Holdfast (born January 2nd, 318 AC) is an often intoxicated seer/fortune teller residing in eastern Thunder's Shore. His main claim to prominence is successfully predicting the Civil War of Andoras in 340 AC, but at the time he was quite unknown and very few, if any listened to him.
Early life
Morsen was born on the second of January in a peasant's cabin within Gardoria. His stayed at home and his father always tried to farm and gather what they could to survive. Into his childhood, he realized he was blessed with the ability to see the future when he dreamed. Most of the time, it came true. However, in these dreams it seemed like nonsense but over time he was able to decipher the meanings behind the dreams. Later in life he set out to tell his prophecies to the public.
Later life
It was Morsen who dreamt the
Civil War
happening. 
"

I saw it as clear as day-..Lions and eagles fighting a fierce dragon upon a gloomy mountainside. War will be upon us!

- Morsen to townsfolk about impending war.

"
 Sadly, most who heard his stories of dreams and war belittled, teased, and scoffed at him. Saying it were nothing more then a vivid nightmare. After the war had happened, people began to flock towards Morsen, asking for forgiveness and for him to tell more of his prophecies. Soon after he developed a following of people, he resides in
Thunders Shore
.
Community content is available under
CC-BY-SA
unless otherwise noted.