Jorry 'Lavos'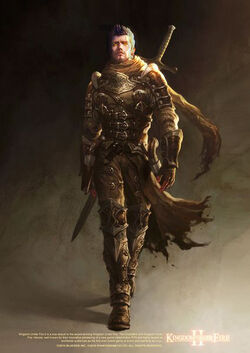 Age
Died July 29, 244 AC (aged 31)
Date of birth
September 5, 212 AC
Portrayed by
Samuel Adams
Jorry 'Lavos'
(212 - 244 AC)
was the leader of the gang known as the
Broken Cloaks
during the
Lavosi Gang Wars
, holding that position from 238 to 244 AC. He was the son of another famous gangster,
Jorry 'Ethryke'
, who was in turn a direct follower of the man who had founded the Broken Cloaks,
'Tatters' Richardson
. From his initiation as a teenager at age 15 in 227 AC to his death after a failed assassination attempt on
Victor Damius
's life in 244, he had ascended the ranks from rookie to grandmaster in all of eleven years; a record among any of the gangs, but it mattered little, as Jorry died quite young. He met his right hand man and friend
'Ser' Garryt
while as a rookie in 230 AC, and the two ascended the ranks together, until it came down to choose a new leader. Jorry was chosen, and his first action was to usher in the
Lavosi Gang Wars
.
His remained were cremated, but they were retrieved by members of the Broken Cloaks and they are now stored in the capitol building of Lavos. Kallum Resno succeeded him as Grandmaster after his death.
Community content is available under
CC-BY-SA
unless otherwise noted.