House Synthor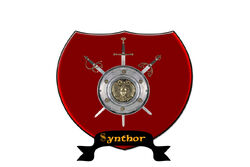 Sigil

Three sword through a red shield.

Motto

For country and family.

Military strength

5,000-8,000

Date of founding

Somewhere around 120AC

Age

Over two hundred years

Ancestral weapon

Ruby's End

(A hand an a half sword with a ruby on the pommel.

House Synthor is a royal house primarily located within Thyllanor, and are vassals of House Karthmere. Gothaen Synthor, a member of this house, is the Grandmaster and founder of the Crimson Lions.
Community content is available under
CC-BY-SA
unless otherwise noted.