Lord Edward III Stenwulf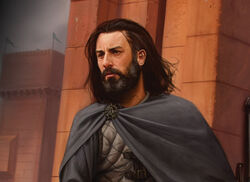 Date of birth
August 23, 312 AC
Edward III Stenwulf (
born August 23rd, 312 AC)
is the current lord of
House Stenwulf
and Lord Paramount of
Frostfall
. He is often called 
Ed
 for short by his friends and family. Edward is known to be an honorable man who upholds his obligations and keeps the well-being of his family at first priority. During the rebellion that deposed
House Dragomyr
, Edward decided against marching south to join the siege but had sent a regiment of men to rescue his daughter instead. He received a message during the siege however, from
Taeronys Dragomyr
who wrote that Edwards daughter
Gwen Stenwulf
had been with him during his court visit to Dragonspire when the city was attacked. Gwen managed to escape through a siege tunnel that lead out of Dragonspire and was escorted back to the north by one of the princes men,
Warne Hasty
.
Currently, Edward rules Frostfall independently, putting his efforts to maintaining the stability of his holdings.
Early years
WIP
Community content is available under
CC-BY-SA
unless otherwise noted.