Delaenera Taranyon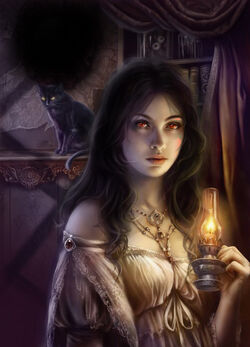 Titles
Taranyon Estate (Upper
Meyron
)
Also known as
Beauty of Meyron Fire-eyes
Status
Patrician of Upper Meyron
Date of birth
April 20, 332 AC
Origin
Taranyon Estate, Meyron
Religion
Ancient Zaentovi Nature Beliefs (To an extent)
If asked, she'll claim
The Five Paragons
Delaenera Taranyon
(born April 20, 332 AC)
is the legitimized bastard daughter of a
Zaentovi
housemaid and an incredibly wealthy Meyronian patrician (whom is nearly full Drakonian in heritage). He is more famously known as
Varen Taranyon
, the incredibly wealthy sharecropper and inheritor of his family's riches. She is the oldest of his children, being born two years before Varen would marry. 
Appearance
Delaenera is almost always seen wearing her extravagant dresses, whilst draped in jewels and gold from head to toe.
Her father is of nearly full-blooded Drakonian descent but, as her mother was a Zaentovi housemaid, she has a light olive skin tone with piercing orange eyes like her father. Her hair is a slight black.
Community content is available under
CC-BY-SA
unless otherwise noted.