Blackmire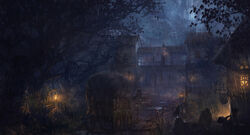 Population
c. 42,700 people
Date of founding
4,000-6,560 BC
Blackmire
is the capital of T
he Wetlands
, and the seat of
House Brackwater
. Currently
Rolland Brackwater
, is the lord and protector of this ancient city. Legend has it, Blackmire was originally a small wooden fortress for Wetlander tribes, who would gather here for communion before the rise of the Brackwaters. When the Brackwaters delcared themselves kings, they claimed Blackmire as their capital, slowly building onto it for millennia. It is also the largest city in the Wetlands.
Community content is available under
CC-BY-SA
unless otherwise noted.